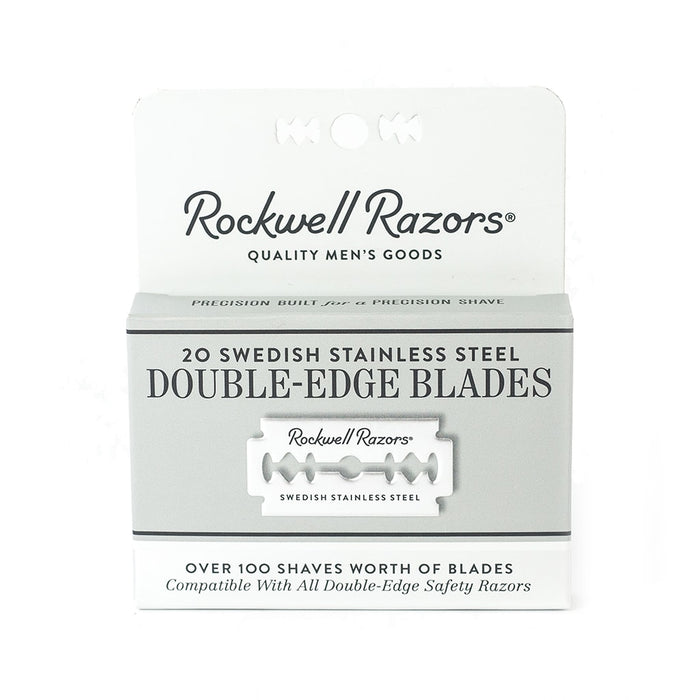 Rockwell Razors Rookie Value Bundle Shave Hardware Display
Please Login / Register to view pricing and purchase products.
This retail display includes 6 x Rockwell R1 Razors (WC), 4 x 20-Pack Double Edge Blades and 3 x Razor Bank.
The display comes with a reversible navy/white header.
With header: 10" x 8'' x 14" (LxWxH)
Without header: 8" x 8'' x 14" (LxWxH)
Features:
The Rockwell R1 Razor
This premium quality razor features high-end components and an advanced butterfly head for an easy and intuitive double-edge shaving experience.
The R1 is set to Rockwell's most gentle setting - making it nearly IMPOSSIBLE TO CUT YOURSELF even when shaving sensitive areas!
The Rockwell Razors R1 eliminates ingrown hairs, shaving acne, and irritation while providing incredibly smooth shaves.
Made from carefully selected, superior alloy for a long-lasting, rust-proof shaving tool, and comes with 5 Rockwell Razors brand premium Swedish Stainless Steel Razor Blades.
20-pack Double Edge Blades
Rockwell Razors Safety Razor Blades are made of premium rust-proof Swedish stainless steel and specially treated to retain exceptional sharpness.
Each blade lasts 5 to 8 shaves.
Each blade is double-wrapped in recyclable paper packaging for safety and easy disposal.
Provides an excellent shave when used with all double-edge safety razors, including Rockwell Razors branded razors.
Blade Bank 
Rather than throwing exposed used blades in the garbage, safely store them in a Rockwell Blade Bank for easy, recyclable disposal.
Made from recyclable tin, the Rockwell Blade Bank allows you to easily divert waste that otherwise goes to landfill.
Each Rockwell Blade Bank fits over 50 used razor blades and can be expected to last for over one year before needing to be recycled and replaced.
The Rockwell Blade Bank fits all types of double-edge razor blades and other barber-grade blades.