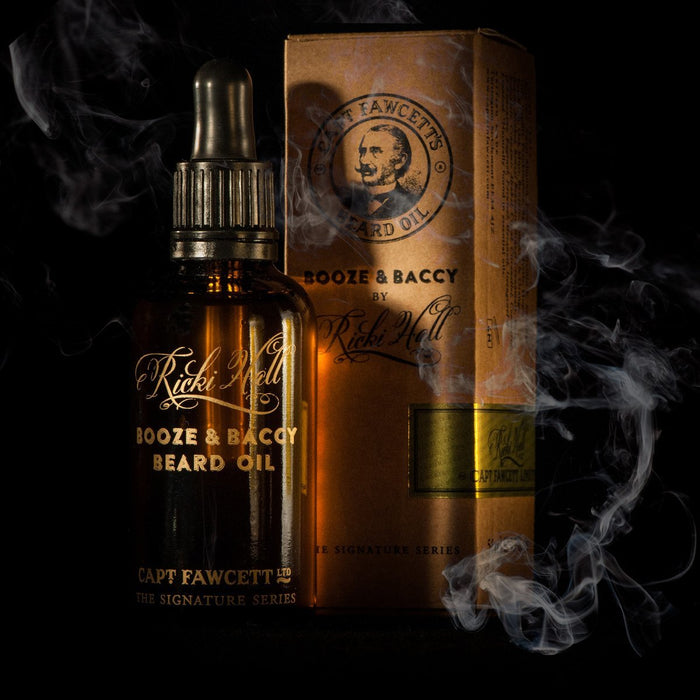 Captain Fawcett's Ricki Hall's Beard Oil (50ml/1.7oz)
Please Login / Register to view pricing and purchase products.
Description:
Captain Fawcett is delighted to have collaborated with the World renowned Dandy & Gentleman about town Mr. Ricki Hall in concocting this simply delectable bespoke Beard Oil. A rich and complex blend of essential oils which combine the luxurious base notes of honeyed fresh tobacco leaves, dusty aromatic frankincense, maple-like benzoin, woody oakmoss, and warm exotic vanilla bean, layered with mid notes of fresh hops and sweet bog myrtle finished with the top notes of spice from the bay rum tree and zesty orange.
Key Features:
Beard oil with a timeless & yet refreshingly elegant scent that

 

top notes of spice from the bay rum tree and zesty orange.

Truth is a simply delightful alchemic concoction.
Fused with sweet almond, jojoba & vitamin E carrier oils.
Handmade in small batches by the Captain's master blender, supplied in a glass bottle with a pump to facilitate accurate dispensing.
Ingredients: Sweet Almond, Jojoba & Vitamin E, Essential Oils: Vanilla, Frankinscence, Bay, Bog Myrtle, Hops, Patchouli, Oak Moss, Benzoin, Tobacco & Orange, Benzyl Alcohol, Benzyl Benzoate, Benzyl Cinnamate, Benzyl Salicylate, Cinnamic Alcohol, Citral, Citronellol, Coumarin, D-Limonene, Eugenol, Farnesol, Geraniol, Isoeugenol & Linalool.
Quantity/Weight: 50ml/1.7 fl.oz
Made in England.