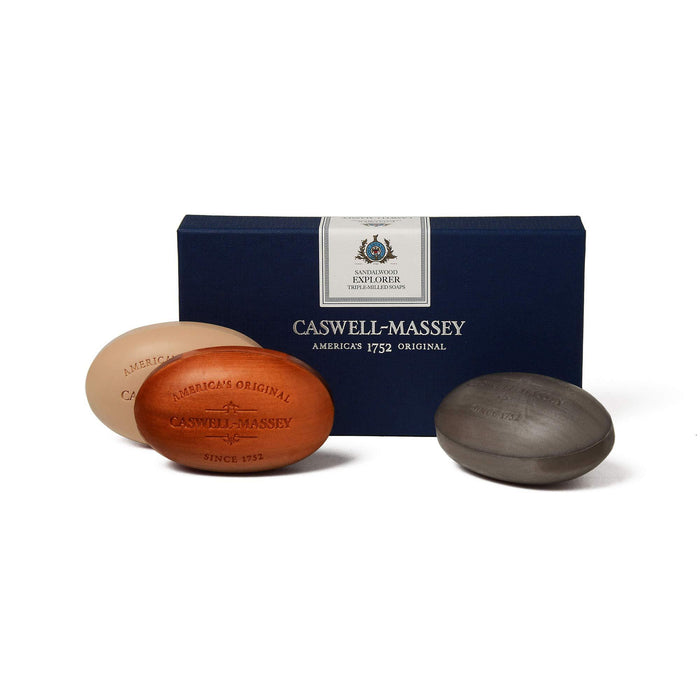 Caswell Massey Sandalwood Explorer Three-Soap Set
Please Login / Register to view pricing and purchase products.
Make your bath or shower ritual more indulgent with our long-lasting, plant-based, triple-milled soaps. This set celebrates the spicy, woody fragrance of sandalwood in three different expressions. Woodgrain Sandalwood is our iconic version, rich and deep. Centuries Sandalwood is a modern update, warm and intoxicating. And Tricorn, a sophisticated blend of cocoa and citrus, has sandalwood at its heart. These luxurious bars will scent the air and lift your spirits as they treat your skin with a moisturizing lather that rinses clean.

Good soap is one of life's simple—but very important!—luxuries. We take bathing for granted, but it didn't become popular in America until the mid-1800s (let's refrain from remarking on the personal odor of our forbears). We aren't bragging when we say that Caswell-Massey was ahead of the trend, creating superb soaps that helped people discover the health and emotional benefits of lathering up.
BAR BENEFITS

Glycerin locks moisture into skin

Triple-milled bar lasts longer than liquid soap

No plastic bottles means less landfill waste

Store extras in a drawer to give clothes a fresh scent

Better for travel—no leaking